Are you ready to SOAR?
Let us help you SOAR! We offer a training program for runners and walkers of all levels.
Training begins August 5!
Conway Training Groups
There will be a local training group led by Co-Race Director Amanda Castillo. Amanda is a Certified Personal Fitness Instructor, Certified Running Coach, Half Fanatic, and Marathon Maniac! Join her and our awesome group leaders as we help you reach your goals!  Weekly training maps will be posted.
Out-of-Towners
If you live out of town and cannot participate in the local training program, please download one of the training schedules to complete on your own! If you have a training group in your hometown, we would love to advertise it on our website and FB page! Please email info@swmarathon.com and tell us about it!
Please note, all training shirts are pre-ordered and will be mailed out in August when training kicks off. See images and sizing charts below!
Training
The training program will meet at the Conway Regional Health and Fitness Center on Saturdays at 6:00 AM beginning August 5.
Safety:  Please sign in and out at each group run, this helps us ensure your safe return.
Training schedules will be updated as training gets closer!
Shirts
The theme for this year was inspired by the Bible verse, "but those who hope in the Lord will renew their strength.  They will soar on wings like eagles; they will run and not grow weary, they will walk and not be faint." Isaiah 40:31
The single feather represents the weeks of training & miles ahead of you as you reach the finish line on October 21 & receive your wings (a.k.a. AWESOME finisher medal.) #SOARONWINGS
Unisex Options:

Unisex Tank (S to 3XL)
Click for Size Chart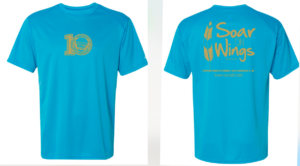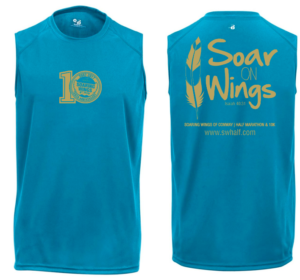 Ladies Options: