Home
Become a Winged Warrior
Register Now!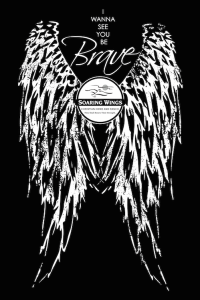 We want to see you BE BRAVE!
BE BRAVE by finishing your running goal and making every mile count even more for the children of Soaring Wings Ranch! You encourage them to BE BRAVE when you run as a Winged Warrior!
Check out the new perks for your fundraising efforts! Every level builds on the next, so the more you raise, the more perks you get. New this year is a FREE ENTRY to the Soaring Wings race of your choice when you raise $300!
Here's a summary of the perks at each level:
| | |
| --- | --- |
| $100 | You earned your wings! You get a Winged Warrior singlet and wings to add to your medal. |
| $300 | Free VIP entry into the Half Marathon or 10K! |
| $500 | Winged Warrior Half Zip (Name Brand Half Zip with Wings on the back) |
| $1,000 | New Garmin ($200 value) |
| TOP FUNDRAISER | Guaranteed free entry to the 2018 Soaring Wings race of your choice, plus $100 to spend at the 2017 Soaring Wings Expo! (deadline October 12) |
What are you waiting for?? Sign up to be a Winged Warrior today! BE BRAVE for the children of Soaring Wings Ranch, and help them continue to BE BRAVE!
Start by creating your own personalized fundraising page by clicking on the blue button above. You can choose to create a team and raise money with a group of friends, you can join an existing team, or you can fundraise individually.  Your fundraising page is easy to share on your social media pages as well!  Check out Race Director Marla's fundraising page as an example!
If you have any questions about signing up, send us an email. We'll help you get started and provide you with all the tools to be successful.