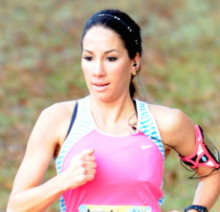 REGISTRATION WILL OPEN APRIL 1, 2017! 

SAVE THE DATE!
Saturday, October 21, 2017
7:00 AM
*GET A FREE VIP REGISTRATION BY BECOMING A WINGED WARRIOR!
*Online registration will close at midnight on Monday, October 16.  There will be a limited number of registrations available at the Expo if the race is not sold out.
In celebration of our 10th Anniversary, every participant will get a half zip pullover!  During the registration process, unisex sizing is for the men's shirt, ladies sizing is for the women's shirt.  These fit true to size. Please register by Sept.1 to be guaranteed the size you want.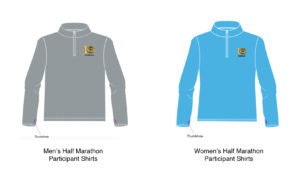 AND, you won't want to miss out on our 10th Anniversary medal!
2017 HALF MARATHON PRICING:
Date:               April 1-June1               June 2-Sept 1              Sept 2-Oct 14
Online:            $55                              $65                             $75
Mail In:            $60                              $70                             $80
To register by mail, please download the printable registration form and mail in with the appropriate fee.
Fee includes 1/4 zip pullover (above), finisher's medal, and excellent course support and post race food.
You must be 13 years old to compete without an accompanying, participating adult.
Participants who register as a walker must walk the entire course.  If you plan on running any at all, please register as a runner!  Runners may walk, but walkers may not run.
Course support will end 3.5 hours after the beginning of the race on the Half Marathon course, with a rolling closure.
There will be no refunds, transfers between people, or deferrals.  See our transfer between events policy below. If you are unable to participate in the race for any reason, your fee will be considered a donation to Soaring Wings Ranch.
Registered participants may transfer their registration to the 10K within the same year, as long as there is still space in the event.
There will be no refund for the difference in fees.
Please email info@swmarathon to request transfers between events.
Deadline to make registration changes is September 15.
Packet Pick Up:
Friday, October 20 at the Conway Regional Health and Fitness Center (700 Salem Rd, Conway, AR) 10:00 AM – 7:00 PM
Saturday, October 21 at the McGee Center (Race Headquarters) 5:30 AM – 6:45 AM.
You may pick up a packet for a friend!  Just bring a copy or photo of their confirmation email OR their ID along with your ID.
Chip timing provided by Stearns Race Timing.
Yes, we have Pacers!  Check out all the information on pace groups here.
Aid Stations will be located approximately every mile and a half. They will be stocked with water and Gatorade, with Honey Stinger gels at the Mile 6 aid station.
We offer a 12 week training program.  Come train with us!
Course Description
The Soaring Wings of Conway Half Marathon course offers a USATF certified course (course #AR08013DLP) that is beautiful and rewarding. The course begins on College Avenue at Conway's McGee Center, moving through beautiful West Conway. Part of the course follows Tucker Creek Trail, a paved pedestrian trail, then connects back to Conway's roadways. You will see several of Conway's schools, two golf courses, and some beautiful residential areas. Get ready to experience the best in southern hospitality as the residents of Conway line the streets and cheer you on ALL along the way! Check out a course map here!
The McGee Center is located at 3800 College Ave. Access to the McGee Center will only be available off of Prince St., just east of the Prince St. and Hogan Lane intersection.
Course Records
Women: Leah Thorvilson, 1:16:49 (2008) Women's State Record
Men: James Cheruiyot, 1:09:44 (2009)
---