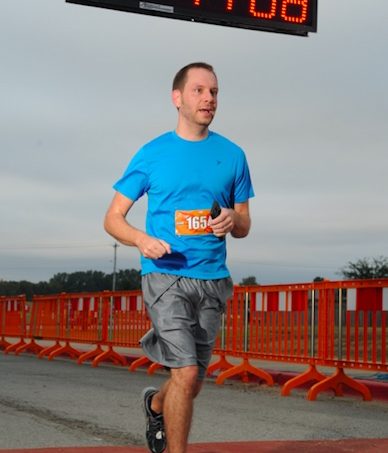 10.19.19
REGISTRATION IS CLOSED!
For those who have run a 5K distance and are ready for the next step up, this is a great option!
The 10K will start 1/4 mile in front of the Half Marathon start line on College St., and will finish with the Half Marathoners at the McGee Center. The majority of the course is on the newly completed pedestrian trail, and it joins the Half Marathon course at mile 3.5 to finish at the same finish line as the Half Marathoners at the McGee Center.  The majority of the 10K participants will finish before the Half Marathoners.  Check out the course map here!
Fee includes participant shirt, finisher's medal, and excellent course support and post race food.
Pricing for the 10K:
Date:               April 1-June1               June 2-Sept 1              Sept 2-Oct 14
Online:            $30                              $35                             $40
Mail In:            $35                              $40                             $45
To register by mail, please download the printable registration form and mail in with the appropriate fee.
You must be 11 years old to compete without an accompanying, participating adult. If you have a child younger than 11 who wishes to participate with a registered, participating adult, please complete the underage runner form.
Participants who register as a walker must walk the entire course.  If you plan on running any at all, please register as a runner!  Runners may walk, but walkers may not run.
Strollers and leashed pets are not allowed on the course.
Course support will end 2 hours after the beginning of the race on the 10K course, with a rolling closure.
Transfers between events and between people will be allowed through September 7 for a $10 fee, in addition to any difference in the cost of events. When transferring your bib to another person, you can choose to gift your bib to them, or you can choose "Transfer Request", and receive a refund for your registration fee after the recipient registers.This can be managed in the race registration system using the link in your race confirmation email. There will be no refunds for registrations that will not be used. If you are unable to participate in the race for any reason, your fee will be considered a donation to Soaring Wings Ranch. You can manage your registration and search participants using the button below. For help transferring your bib to another person, click here. For help in transferring your own registration to a different event, click here.

PACKET PICK UP:
Friday, October 18 at the Conway Regional Health and Fitness Center (700 Salem Rd, Conway, AR) 10:00 AM – 7:00 PM
Saturday, October 19 at the McGee Center (Race Headquarters) 5:30 AM – 6:45 AM.
You may pick up a packet for a friend!  Just bring a copy or photo of their confirmation email OR their ID along with your ID.
Chip timing provided by Stearns Race Timing.
---